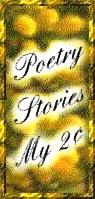 1+1=3
By Judith Bronte



"For where two... are gathered together in My name, there am I in the midst of them."
~ Matthew 18:20 ~


wo small kids, played in the park:


1 small girl sat in the swing.
1 small girl could not sing.
1 small girl wanted to cry.
1 small girl's Daddy just died.


1 small boy stacked paper cups.
1 small boy just glanced up.
1 small boy saw his own dread.
1 small boy's Mommy was dead.


1 small girl felt a strong push.
1 small girl now went "Whooosh!"
1 small girl touched the blue sky.
1 small girl no longer cried.


1 small boy felt God's kind love.
1 small boy saw a white dove.
1 small boy knew God was there.
Girl and boy their lives did share.
.




You may republish this without permission, provided it remains free, accredited and unaltered. Copyright © 2008 Sarah Fall (aka Judith Bronte).